PHP 5.6 & PHP 7.0 EOL FAQ
The end is near. At least for PHP 5.6 and PHP 7.0. Here are most facts for fortrabbit clients on the upcoming updates.
This is part 4 of a series on the PHP upgrade path. See the other parts as well:
On PHP deadlines — PHPilosophical text on why there is so much old PHP around and what to do about it.
Testing PHP for version compatibility — How you can test your code if it will run under PHP 7.
PHP 7.2 upgrade path — Hands on instructions for our clients on how to update.
PHP EOL FAQ (this post here) — Anything else our clients need to know.
How do I know if my Apps need to be updated?
Take action yourself now. Visit your Apps in the fortrabbit Dashboard, check the PHP settings. When the version is lower than 7.1, you will need to update. You will also see a big warning in that case.
In addition will also send direct mailings to all Owners of Apps still running on deprecated versions of PHP. This will include which individual Apps are affected.
How do I update?
Updating the PHP version on fortrabbit is simply done in the Dashboard. But you might also need to bring you code base in shape. See our PHP 7.2 migration guide for more details.
What's the timeline for the switch?
The official security support for the two PHP versions ends in December 2018, but that's where everybody is on holidays. So we plan to do the switch mid of January 2019. The final date will be announced, a few weeks before. We will consider your feedback on this.
What will happen when I miss the deadline?
All Apps on PHP 5.6 and PHP 7.0 will be force-upgraded by us on the day of the switch. That means that we will change the underlying PHP version on your behalf. We will not test or touch your code. In many cases, that will make no differences to the Apps, except that they will run a few milliseconds faster. But in other cases this will also break the Apps from running, maybe partly, maybe entirely.
Do I have to update to PHP 7.2 now?
We recommend to update to PHP 7.2 now. That gives you the longest support time frame currently available, until 2020. PHP 7.3 will be released soon. But you can also only to upgrade to PHP 7.1 now. For that the support time frame will likely be until EOY 2019.
What about mcrypt?
Which PHP versions are supported on fortrabbit?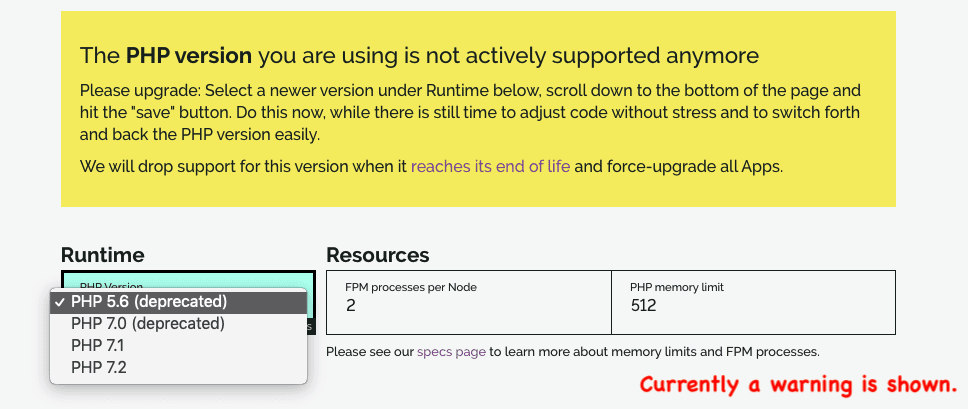 fortrabbit is a managed PHP hosting platform. We maintain the PHP versions for you. You can select the PHP version for each App individually within the Dashboard under the PHP settings. You don't need to install or compile anything. Upgrading PHP on the server side is only a few clicks away here. So, this post is not on how to update the PHP version on your server, but on how to make sure your PHP code runs on a newer PHP version.
New PHP versions on fortrabbit are added when all extensions are ready and we have performed some testing. As of this writing the current default version for new Apps is PHP 7.2.
Here, PHP versions differ by MAJOR (PHP 5, PHP 7) and MINOR releases (PHP 7.1, PHP 7.2), as with semantic versioning. We leave upgrading to you, as far as we can. We try not to update MAJOR or MINOR releases of your existing Apps for as along as possible to make sure nothing will break. PATCH releases, like from PHP 7.2.1 to PHP 7.2.3 will be applied automatically.
What are the current versions of popular software?
Here are some popular PHP projects - at their current version as of this writing - and their required or at least recommended PHP versions:
But I am not a developer!
Please contact your developer regarding this. Remember: fortrabbit is a self-service hosting for sophisticated developers and their clients.
Can you help me with the updates?
Sure! We are here to help. As usual, prepare your question to include sufficient details and ask don't hesitate to ask us right away in our support chat.